On Saturday May 28th about 30 leaders within the church gathered to talk about where we will put some of our energy and resources for the next year or so. We brought together all the data we have been collecting over the last so many months. We began our day in prayer and devotion lead by Rev. Molly Moore. Then with the help of our church vitality coach, Rev. Lynn Francis Munson via Zoom we dug into the data.
Our intention was to look at our gifts, our values and the needs of community and see where there is overlap. This is the place, at this particular time, that God is calling us into mission. Fredrick Buechner says it more eloquently when he states: "The place God calls you to is the place where your deep gladness and the world's deep hunger are meet."
Over the next month I will be developing 3 measurable goals, as a result of this meeting. One goal will be something internal to the church that we need to work on and two goals that are external to the church. Goals that will improve the community and the lives of those that live in Saline County.
We began by reviewing our Spiritual Gifts data, which demonstrated that we are high in Serving, Faith and Giving. It is important to state that if you didn't fall within one of those three please know, it kind of makes you more valuable as we have limited resources in that area. All gifts are of equal value and all are needed to be a vital church.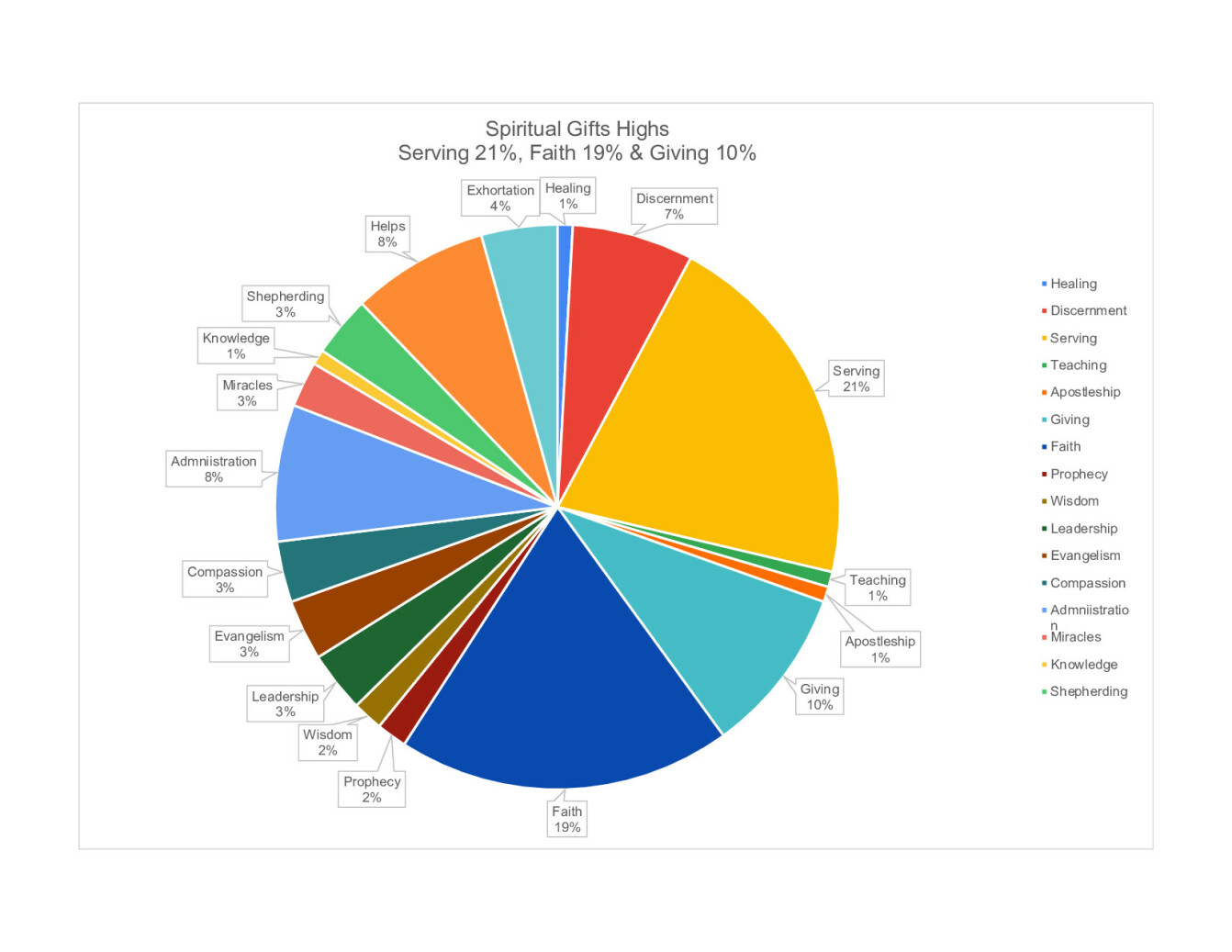 We also talked through the community needs we collected, via interviewing community leaders, business owners and unchurched people. They were:
Community Needs
Housing - Homeless Shelter, Transitional housing, Affordable housing
Ward 4 needs a lot of love and attention. They feel underrepresented. Housing Code issues, Growing Hispanic population feeling disconnected.
Barriers to the workforce.
Alcohol and Drug Support Programs
Foster Care Support
Help Poor with Necessity Items like shampoo etc.
Youth Support, Connection, Support
Community Volunteer Opportunities, Bring Community together to solve problems.
Transportation
Pain/hurt/loneliness within LGTBQI+ community (parents too)
Affordable Childcare
Hunger
We then added our churches values. You may remember we spent one Sunday writing down how we hope to be viewed internally and how we dreamt guests and the community would view us. I summarized those values into commonalities:
| | |
| --- | --- |
| Internal Values | External Values |
| Caring | Welcoming |
| Accepting | Accepting |
| | Serving |
We also kept in mind observations of church which were:
Growth Areas
New/Additional Leaders
Online Worshipping Community
Families under 50
Children, Youth, College age
Diversity
Number of repeat guests
Personal invitations
Focused Prayer
Missional Use of Building
Each table was asked to pick an area of need and to come up with a goal or goals for that area of need. We then shared those needs and goals.
It is now my job to take those goals and make them into SMART goals. Goals we can measure, have timelines and create steps to achieve those goals. Once I have them completed and they go through some review and editing, they will be presented to Administrative Council for approval and implementation. At that point I will communicate the goals to the congregation.
It is an exciting time to be part of First UMC - Marshall. I can't wait for us to see the fruits of our planning.