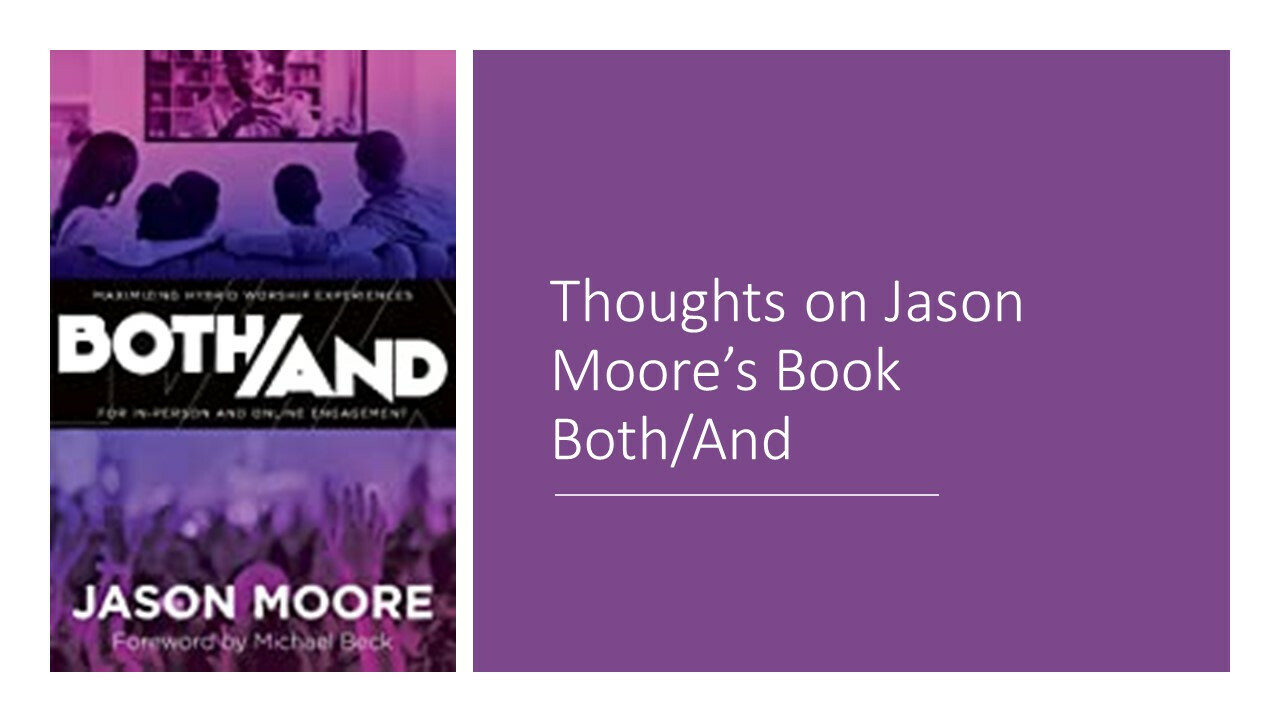 I have read Jason Moore's book, "Both/And" for short. "Maximizing Hybrid Worship Experiences for In-Person and On-line Engagement" for the full title.
As I am reading along I like to bullet point items that strike a chord and hopefully, it gives you an idea of things I am thinking about. Here are the things I think are worth noting.
Churches need a digital strategy beyond web/Facebook/YouTube. The need to create an online environment that is friendly and has designated people online to greet, ask questions, and connect people's thoughts. Someone that engages those that have joined online.
Churches are seeing more first-time visitors due to a comprehensive and interactive online experience.
Churches are also seeing others that will create their worship community online and never enter your building.
Not everything is done in in-person worship translates well online. Music is the main thing that doesn't.
The longer the service, the harder it is to focus. Start shortening your service.
Lyrics and Leaders need to be on screen at the same time.
Limit announcements in church. Make action steps if you have to have a couple of announcements.
Online worship is not a pretend version of worship. It needs to be a true experience of worship for those participating. It's about connection, not content.
Change up your order of worship. Maybe a different order per series.

There is no going back to how worship was pre-Covid. Covid happened. We can't pretend we didn't live through it.

It would help if you didn't let anyone join any team or committee without agreeing to two rules

Support the decisions of the team even when you disagree

Create the desired outcome or "Call to Action" for each sermon series.
25-40 minutes is the sweet spot for online worship. How can you pull this off in real-time?
The key is relationship building - need a chat host
Move from Monologue to Dialogue Worship.
Create some alternative moments for online worshippers.